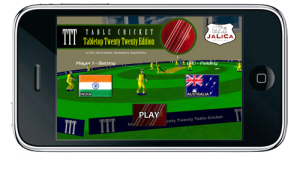 JaLiCa Studios now design and create Apps for iPad and iPhone, for sale in the Apple App Store.
Our first release in February 2012 was the 3D Game "Table Cricket" which is currently enjoying huge popularity and has been ranked as high as the top 30 in the Overall "Games – Sports" category, where it is up against some illustrious releases from multi-million dollar studios such as EA Sports.
Contact us if you're interested in having an App built for your business.
We range from entertainment games to practical and functional apps for business.
Or, if cricket games are more your thing, why not have a go at Table Cricket ?
Click here to see it in the App Store